STLFing sada mozete birati na Comeau i Dinkumware on lajn kompajlerima!
Molimo zabelezite: Aktivan razvoj na STLFingu je zavrsen. Autor se
iskreno nada da ce C ++ Odbor za standarde usvojiti "koncept"
pre ili kasnije, cineci alate kao sto su STLFing nepotrebnim...
_____________________________________________________________________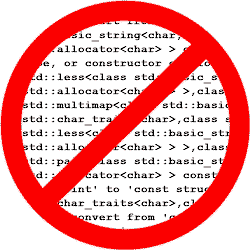 STLFing pojednostavljuje i/ili reformatira duge C + +greske i poruke upozorenja , sa fokusom na STL dijagnostiku ( i za MSVC 6,u potpunosti eliminise C4786 upozorenja). Rezultat ponistava mnoge od cak i najkriticnijih dijagnostickih razumevanja. Ovde je
obrazlozenje
.
Aktivni sastojak u svakoj distribuciji je Perl script, tako da vam je potreban instaliran;
ActivePerl
najbolje radi i besplatan je.
Pratite preuzimanje organizovano po stavkama:
Native MSVC 6
Native MSVC 7.x, 8.x, 9.x (IDE-based Decryption within VS2005/2008 now WORKS. See README-VC.txt)
Dinkum 3.08
Dinkum Unabridged Library










Ispod je komponenta specificnih informacija. Klikom na broj verzije prikazuje obrnutu hronologiju unetu u dnevnik za povezane komponente:
Component

Version
Number

Last
Updated

STLFilt.pl
Perl script for Visual C++

10/16/2007

CL.cpp
Proxy CL for Visual C++

10/16/2007

STLTask
GUI-based Decryption controller for MSVC, gcc and Intel C++ (Windows) platforms [screen shot]

3.07

9/8/2004

comofilt.pl
Perl script for Comeau C++

11/28/2003

gSTLFilt.pl
Perl script for gcc

1/28/2008

C++.cpp
Proxy c++ for gcc (now supports the Dev-C++ IDE!)

06/16/2008

cwSTLFilt.pl
Perl script for Metrowerks CodeWarrior

11/24/2003

bSTLFilt.pl
Perl script for Borland C++ 5.5.1 and C++Builder Command-Line Tools

11/22/2003

edgfilt.pl
Perl script for EDG C++ Front End

11/25/2003

intelfilt.pl
Perl script for Intel C++

11/28/2003

dmSTLFilt.pl
Perl script for Digital Mars C++ Command-Line Tools

3/20/2004
Za udobnost, ovde je cross-platform komandna linija
option overview
.Kompletna dokumentacija na script opciji je prezentovana u Perl source u - ispitajte svaki scenario koji koristite za citanje komentara
"End of user-configurable settings"
da biste videli ceo skup raspolozivih prilagodljivih funkcija specificnih za tu verziju.
STLFilt u stampi
Leo Zormanovi
C / C + + Korisnici Journal clanka,An STL Error Message Decryptor for Visual C + +
, pojavljuju se u julu, 2001 izdanje. Dostupno je za gledanje
on line
.
U njihovim knjigama
C++ Template Metaprogramming
,David Abrahams i Aleksey Gurtovoy opisuju upotrebu STLfilt a da pomogne sa oblikovanjem i preraspodelom metaprogramming gresaka. Pogledajte odeljak 8.2 ("Upotreba alata za dijagnosticku analizu"), strane 156-158
Bruce Eckel
i
Chuck Allison
su spomenuli STLfilt na strani 320 od
Thinking in C++ Volume Two:Practical Programming
(Cela knjiga se moze preuzeti besplatno)
Nicolai Josuttis i Daveed Vandevoorde navode STLfilt u odeljku 6.6.1 njihove knjige
C++ Templates
.
Scott Meyers
spominje STLFilt u stavci # 49 EffectiveSTL. Napomena: Oficijalna skinuta stranica za
Efecttive STL's
source code archive je
ovde
.
Davanje i dobijanje pomoci
STLFilt se daje kao otvoren izvor Freeware a u interesu promovisanja ucenja i kosriscenjaC++. Ako vam je ovaj softver koristan, i zeleli biste nacin da vratite uslugu drugacije osim novcano onda obratite paznju:STLFilt ov Leor Zolman nudi na licu mesta trening hads-on u C / C + +, Perl, Unix / Linux Fundamentals and Korn Shell scripting. Molimo sirite pricu o BD Softver u,
ponudi za kurs
,ljudima u vasem odeljenju za obuku.
Veliko hvala
Bjarne Stroustrup-u
,
Comeau Computing-u
,
Dinkumware-u
i Metrowerks-u sto su pomogli da se rasiri prica preko njihovih web sajtova.
STLFilt je besplatna tehnika:open source, potpuno besplatno,nema zica....Ako vam je softver koristan,molimo vas,podelite sa nekim pricu o BD Softveru i treningu C++ na licu mesta.